Lesezeit:
6
Minuten
A weekend full of games, games and even more games in Berlin means only one thing: BerlinCon 2023!
Once a year, BerlinCon opens its gates in the capital of Germany, Berlin. During this time, numerous exhibitors present their board games, providing visitors with the opportunity to try them out and make purchases. But what about those who are not interested in buying board games? They can still explore the entire area to get an overview of the convention.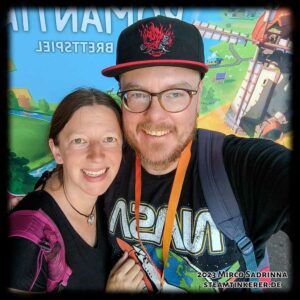 A particular event opens its gates every year in Berlin and the title sounds simple: BerlinCon. This exciting convention is a place for game enthusiasts with the focus on board games. I attended the convention for the first time last year and was completely overwhelmed by the experience. So I decided to visit it again this year. From 14 – 16 July 2023, BerlinCon welcomed the visitors at its location "Station". Now that the convention is over, the time has come to reflect and share my experience. Are you ready? Great! Let us dive in!
BerlinCon 2023. A colourful weekend focused on board games and more.
My journey began in the early morning on Friday, 14 July 2023, when I was on the way to the station of Altona (Hamburg). I planned to take the train there, because my destination was Berlin. I arrived at the station with more than enough time, knowing that trains sometimes can run a bit behind schedule. My decision to be over-punctual was unnecessary this time, as the train departed from Altona right on time and arrived in Berlin as scheduled. I must admit, the entire train ride was comfortable.
Friday. A day of rest.
Although, BerlinCon opened its gates this day, I had a different plan. Since I was in Berlin, I could not resist the opportunity to visit some of the city's fantasy & science fiction stores. The city boasts quite a few of these specialised stores, so I decided to take it easy on Friday and reserved Saturday and Sunday for attending the convention. I had the pleasure of meeting FeyTiane and Wolf, who have been living in Berlin for many years. They graciously offered me a room to stay. FeyTiane is a host of our podcast "SteamTinkerers Klönschnack" (podcast archive). On the other hand, Wolf has participated in several actual plays in the past. Maybe you know of them both.
The highlight of the day was undoubtedly our visit to the escape room called "Beast of Berlin". That was my first experience with an escape room, and I must say, I enjoyed it very much. The spooky story immersed us in the 1920s. Working together as a team, we successfully cleared the case and solved all the challenges within 56 minutes. I highly recommend this escape room for all fans of the Cthulhu Mythos and horror enthusiasts alike. It was an unforgettable adventure!
Interesting Links:
Saturday. First Day at the Convention.
Then it all started on Saturday. We headed to BerlinCon at 11 o'clock, and it seemed that we were really lucky. Just a few minutes earlier, the queue of convention visitors stretched all the way to the street and beyond. However, when we arrived, there was no sign of it and we had no waiting time. The weather was scorching hot, with the sun shining relentlessly. A head covering as well as water were essential during that time. The temperature inside the halls was similar to the temperature outside. Finding shaded places outside was a rare treat.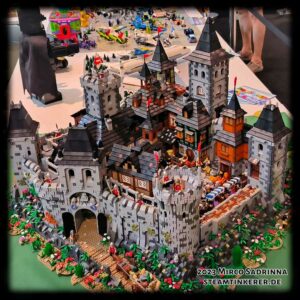 Before entering the halls, we took a moment to have some refreshments outside. Finally, our adventure began after that. In the first hall numerous publishers showcased their games, and interested visitors could try many of them during various support sessions. But at that moment I was not motivated to participate in any support sessions. Instead, I wanted to get an overview of the entire convention. Apart from the majority of board game publishers, there were also some role-playing game publishers present, including Ulisses Spiele, Uhrwerk Verlag and DDD-Verlag. Furthermore, I looked for people to talk about the fantastic hobby of tabletop role-playing games and record it for a possible upcoming podcast episode.
As FeyTiane and Wolf participated in several support sessions, they found the small, but really cool game "Dungeon Drop". Meanwhile, I explored the entire area, met friends as wells as relatives and went outside for some fresh air occasionally. The heat was intense, but thankfully, there were plenty of stalls offering water and food for visitors. During my journey through the halls, I purchased the "Das Schwarze Auge" ("The Dark Eye") source book "Das Wüstenreich" at the Ulisses Spiele stall. FeyTiane, Wolf and I tried "KLASK". A supporter kindly explained the rules to us and we had a lot of fun playing the game. Even though, it was my first time experiencing it.
At some point, it was time to leave. In the evening we enjoyed pizza together in a cosy setting and our conversation resolved around the exciting events of BerlinCon 2023. FeyTiane and Wolf even purchased "Dungeon Drop" and we played a few more sessions afterwards. Laughter filled the room and marked the end of a fantastic convention day.
Sunday. The BerlinCon finale.
Sunday marked the last day of BerlinCon 2023, but we decided to take it easy in the morning. Personally, I felt I had acquired the most important things the previous day. However, I had arranged appointments with two interviewees for the day and there was a glimmer of hope that I might get the chance to try out the game "Earthborne" from Frosted Games.
Unfortunately, luck was not on our side when it came participating in a support session for the above mentioned board game. Too many other visitors had the same idea and the number of interested individuals was enormous. Despite the setback, I explored every hall once again. Maybe I would find a cheap offer or other interesting discoveries? Who knows. A few hours later, I had the pleasure to talk to MIDGARD author and game developer Christopher Bünte as well as to Claudia Heinzelmann (Uhrwerk Verlag employee). Both talks were really satisfying and I recorded them for a possible upcoming podcast episode. The previous day I also had an interesting conversation with Ras from the Dragon Legion. Three recorded talks in total! Yes, that was a good result.
At 4 pm, FeyTiane, Wolf and I headed to the flea market. Wolf had brought a few board games to sell on Saturday and now he wanted to see how many of these games were sold and which ones he should take back home. A sizeable queue awaited us at the entrance to the flea market and we had to wait. The temperature on Sunday was not so extreme in comparison to Saturday, waiting was no problem at all.
After that, we left the convention and ate something. It was a really good day and a cosy one as well. That was BerlinCon 2023 and the next day I boarded the train back to Hamburg, unaware of the adventurous journey that awaited me. And indeed, it turned out to be quite an adventurous ride!
My personal result.
Last year, I attended the board game convention in Berlin for the first time and it became evident that it would not be my last. So, this year, I returned to BerlinCon again. Both days, Saturday and Sunday, I explored the entire convention, talked to exhibitors, visitors and more. I never felt bored.
To be honest, I am unsure of the exact number of visitors throughout the whole event. At times, the convention did get crowded, but from my subjective perception, I never experienced a significant bottleneck. The corridors were spacious and provided ample room for all visitors to move around freely.
I was delighted to find three publishers, DDD-Verlag, Ulisses Spiele as well as Uhrwerk Verlag, who specialise in tabletop role-playing games among others. Apologies, if I might have overlooked any other publisher in this sector. Additionally, it was great to have the presence of the Dragon Legion, a tabletop role-playing organisation, on-site. This is undoubtedly a positive development, but I remain hopeful that even more publishers in this sector will participate in the future. I will keep my fingers crossed for further expansion and diversity!
New Location in 2024.
With this, BerlinCon bids farewell to its previous location. In the coming year, the colourful spectacle will take place at the Hotel Estrel instead. Does the hotel or the new location sound unfamiliar to you? Perhaps this German reportage (YouTube video), that I found on YouTube, might be of interest to you. Naturally, I will try to attend BerlinCon in 2024. I have developed a fondness for this board game convention, and it is not something I will easily let go of.
---
SUPPORT STEAMTINKERERS KLÖNSCHNACK
Do you like the content and appreciate the work of David and Mirco? Then you have got the possibility to support them, for example by buying us a virtual coffee or by becoming a member. No matter what you decide, we look forward to your support! Because that is very important for our work.

---